There must be easier routes into the profession but, long before completing his Physics degree at the University of Warwick, Mark Patton knew that he wanted to be a teacher.
"I remember very clearly in primary school with my last junior school teacher, thinking: 'I want to do what she does.' That was confirmed with some of the excellent teachers that I had in my high school in North Tyneside," he recalls.
Throughout his formative years, Mark would also do his work experience in schools and it only strengthened his resolve to 'give something back' to the education system that had served him so well.
He was delighted when, after staying at Warwick to complete a post-graduate course in teaching, he secured a job as a science teacher in a secondary school back in North Tyneside.
Schools to local authority
Over the next couple of decades, Mark rose through the leadership ranks across several schools, going from head of year, to head of science and up to assistant head teacher. It was towards the end of that period when his teaching career came to a fork in the road.
"An opportunity arose to do some wider partnership working across the all of the secondary schools in North Tyneside around post-16 programming and curriculum development. So I was seconded to the local authority for a year to do that," Mark explains.
This new role soon led to another.
In the 2000s, one of the Labour government's most ambitious education initiatives was the Building Schools for the Future programme, which sought to invest in secondary school buildings through public bodies, local authorities and the private sector.
"I was the education lead for BSF on North Tyneside for about a year and then there was a change in government and the programme was stopped."
Mark continues: "I had to make a decision about whether I went back into school or stay in local government. I decided that I enjoyed my wider local authority influence and impact on education across the wider area. So I resigned from my school to move full-time and permanently into local authority work."
Out of the classroom
Leaving the classroom was a big decision for someone who had always wanted to be a teacher. Does he miss it?
"I really did initially. But with any change of job, or change in circumstances, you adapt and get used to it. I don't miss teaching anymore because I am in a different place now to where I was," says Mark.
"The profession has moved on in the years that I have been directly away from the classroom. It's a very different job now, and I would think very long and carefully about whether I could do as good a job now."
During his time with the local authority on North Tyneside, Mark was able to work across a range of issues, such as special educational needs and English as an additional language. He also qualified as a school inspector and inspected schools across the north of England.
In 2012, he took up a post as a senior school improvement advisor for Hartlepool Borough Council. A couple of years ago, Mark was promoted to his current position, Assistant Director, with lead responsibility for education in Hartlepool. He, and his team, look after about 40 schools, most of them primary schools, on their patch.
School improvement
School improvement is an easily overlooked part of the education system. Many parents, perhaps, don't even know it exists. Or they'll confuse it with school inspections.
"We have some statutory things that the local authority is responsible for: that all children are treated equally, fairly and have an equal deal, no matter what school in a local area that they go to," explains Mark on the role of school improvement advisors.
"We will help a school improve in whatever way we can. That could be working with an individual teacher in a particular area that they want to get stronger and better at. It could be working in an individual department or part of a school, or it could be working with the whole school on a particular issue."
Unlike inspectors, school improvement advisors will develop a strong, long-term relationship with individuals and schools, and work closely with them towards an agreed goal. On the other hand, Ofsted inspections offer a snapshot evaluation over just one or two days.
Sadly, as revealed, by the Times Educational Supplement recently, there's a growing trend of local authorities cutting back on school improvement officers throughout the country.
"I think schools will miss having people who are independent, on their patch, who understand their local context and who, crucially, understand their school's journey over the last few years," says Mark.
"If you ask Joe Public on the street, what does the local authority do to make sure the quality of teaching in your child's classroom is better? I don't think many would know. I don't think we do a good enough job of explaining our role in education to the public and how much of a difference we make; we are certainly not as good at doing this in Hartlepool as we could be. I'm trying to make that better."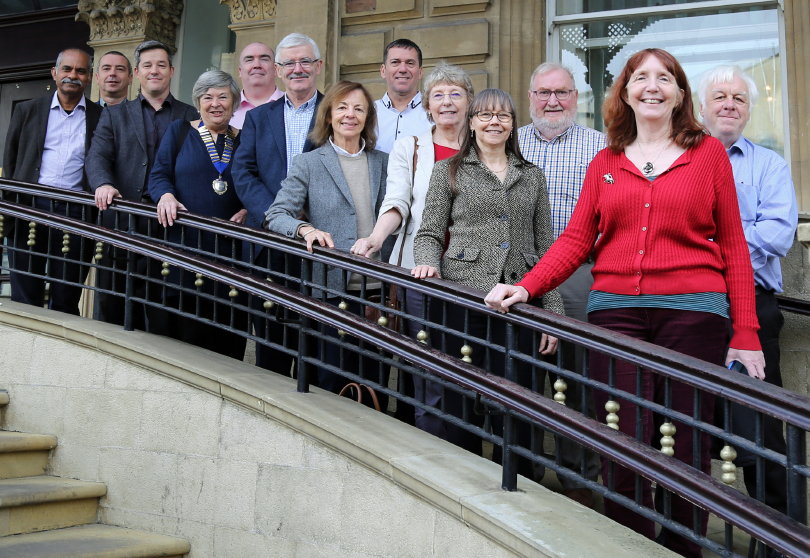 Photo: Prospect's ECS Group Executive Council
Council and conference
Despite climbing up the management ladder, Mark has always remained a committed trade unionist. As a teacher, he was in a teacher's union, and when he moved into local authority work, Mark joined Aspect, the predecessor to Prospect's Education and Children's Services Group.
"I strongly believe in the principle of collective bargaining, agreements, protection and support that an independent external organisation can bring to a group.
"I think anybody who is employed in school improvement work inside a local authority, or council, should be in a union."
In fact, his union activism is getting stronger as the years go by. In the last year or so, following discussion with his colleagues and with their support, he's joined the ECS Group executive council.
"I think it's worth my time because we need a strong voice that's still directly connected to the world of practical education matters," says Mark on why he decided to join the council and the insight that he hopes to be able to contribute.
"I think what brings the council together are issues such as funding, elective home education and the wider issue of inclusion. If you look at the committee's action plan for the next two years they will be major planks of our work."
To cap it all off, Mark also presented a motion at Prospect National Conference earlier this spring.
"It was a very, very interesting experience in terms of really getting to understand the breadth of Prospect, and some of the common things that affect workers in this country at the moment."